1
« on: April 16, 2013, 11:48:30 AM »
As Daffy posted earlier, we've become aware of an attack on GTAStunting accounts.
While at this point we are not aware of any compromise of our own database, the database of another forum that a number of our members frequent has leaked out into the public.
A malicious user has taken it upon himself to use passwords from this leak to gain access to a number of GTAStunting accounts that had the same password.
In an abundance of caution, we've decided to invalidate all GTAStunting passwords effective immediately. To gain access to your account, you will need to
initiate a password reset
. We ask that you use a password that is both strong and unique to GTAS to help not only protect your own GTAS account, but to also protect other members as well as other accounts at different services you may have. It's also never a bad idea to change your passwords for other accounts, especially Email, every now and then.
If you're unsure how to create a good password, feel free to use the guide below. The comic was created by the fine folks at
XKCD
.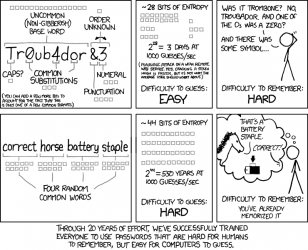 Thanks everyone for your patience and understanding!